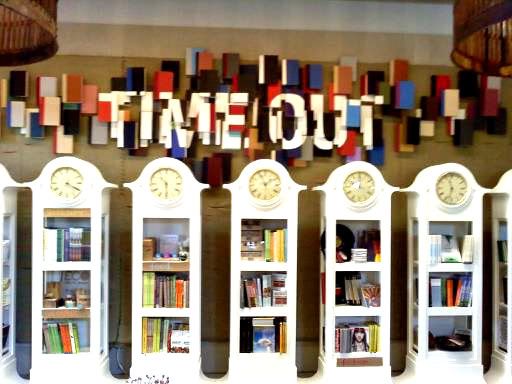 Once upon a time, nine grandfather clocks, used on the set of the movie Bicentennial Man, and four boxes of used library books were donated to Seed. Of course the most logical and eco-friendly thing to do would be to make book shelves out of the clocks and drill books into the wall in hopes of creating the next Picasso, right? Well, we think so here at Seed. Not only did we make great use of our donated items, we also recycled clock parts to make jewelry and decorated the interior of the room with Cisco's sleep-worthy chairs, re-upholstered with recycled army tents. Stop by and enjoy some coffee from our café as you indulge in one of our many books and relax in our study.
Seed Reads
Stick your nose in:
Full of creative and affordable ideas,
Flea Market Style
gives all the information and advice you need to create a distinctively original home.
The "how-to-go green" book,
Ecoholic
by Adria Vasil, gives you a quick and dirty yes/no list for all green aspects of your life.
There is not a 'them' and an 'us'; there really is only 'us'.
One People
illustrates this thought through a collection of glorious photographs accompanied by thoughtful essays that capture the universatility of the human experience in the very different contexts of our diverse world.
Good Green Kitchens
is loaded with inspiration and information to help you create your dream green kitchen, a kitchen that works great and is beautiful, healthier, and easier on the environment.